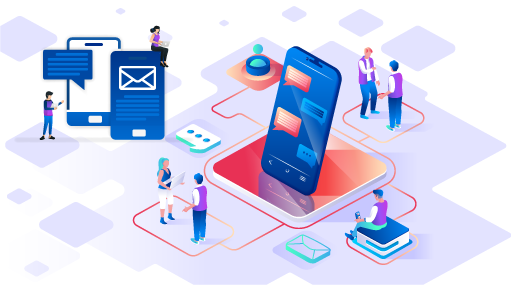 Benefits of email marketing from real small businesses
If you want to know the real advantages of using email marketing for a small business, why not ask other small business owners and see how it worked for them?
We're constantly on the lookout for the exciting and innovative ways our customers are using email marketing to build customer relationships and do more business.
Here are our favourite customer examples of the real-world benefits of email marketing.
Build credibility with your customers (and prospective customers)
People do business with people they know, like, and trust. Email gives you the ability to build credibility with your audience by sharing helpful and informative content.
Get more people to call you to do business
When done right, email marketing lets businesses reach the right person, with the right offer, at the right time. For a business like Rejuvenate Therapeutic Massage, a well-timed email results in a flood of calls each time they hit send.
"Email is our prime mode of communication. We rely really heavily on it because whenever I send something out, I'll get a flood of telephone calls." ~Victor Terrazas, owner of Rejuvenate Therapeutic Massage
Strengthen relationships with your customers
If you want to build strong customer relationships, it's important to have an effective tool to communicate with the people who matter most to your business. Email gives you the ability to stay top-of-mind and keep people engaged with your business during your busy season and the slower times of the year.
"Being able to get our message out there is important to us. It gives the members a feeling of being included. They know what's going on with the gym and know that they aren't just a number on a list." ~Nicole Sanders, founder of Ladimax Sports and Fitness
Improve communication to keep your customers informed
If your business depends on having a reliable way to communicate with your members and clients, you need to have a communication channel you can trust. For real estate management company, Buccini/Pollin Group, email has provided a reliable solution to keep tenants informed and up-to-date.
"We've had people say that they've really noticed that there's more communication going on. It can be something small – maybe the garage doors aren't going up or down – we try to send out an email right away letting our residents know that's happening, and sometimes get an email right back saying thank you and that they appreciate it." ~Julia Mason, residential marketing manager for ResideBPG.
Build your brand
With email marketing, you can strengthen brand recognition with new and potential clients, and extend your reach when people forward or share your message with a friend.
Boost your sales and revenue
When you have an audience of people who opt-in to receive updates from your business, you'll be able to think differently about how you boost sales throughout the year. This has been especially valuable for a business like Colorado-based Allegria Spa, which communicates with local residents and visitors from around the country.
"It has definitely been the easiest way to reach people. If we have a slower day and know that we want to reach local people, we can create a quick email and will get at least a few calls right away. The response is immediate." ~Christine Copertino, spa director for Allegria Spa
Learn what works and see the impact of your marketing efforts
Another benefit of email marketing is that it gives you the metrics you need to see how your campaign emails are performing. These insights help you market smarter, and also give you the advantage of better understanding the needs and interests of your customer base.
"Email has definitely helped us with web traffic and attendance at our events. I like that after I send an email out, I can go back and see how many people clicked through on which links. That way I can tell people are interacting with our content and click through to our website." ~ Ally Whittaker, public relations manager for The Local Good.
Reach people on any device
With 60 percent of all emails being opened on a mobile device, email marketing is one of the best tools you can use to take advantage of the continuously growing popularity of mobile technology.
"We are definitely focused on mobile devices now. I want to know that if someone gets our email, no matter where they are, they can look at it. In fact, when I sent our last flyer, I got three phone calls! That's big! And I am almost positive that all of those people were on their phones, not in an office." ~Carol Singer, owner of Arlington Promotional Products
Get more from doing less with pre-built templates
One of the benefits of using an email marketing provider like us is that you have access to professionally-designed email templates. These templates are designed to make it quick and easy to get your message out to your audience and ensure you look professional when it lands in the inbox.
"Email marketing is great, because it doesn't have to take a lot of effort to have a big effect." ~Terri Jasen, national program director, Pajama Program.
Increase website traffic
Whether you're an ecommerce business that sells products online, or a retail store that wants to increase traffic to your website so that you can bring more people into your store — email marketing campaigns can help.
Market with a personal touch
Unlike other marketing channels that often limit your ability to customize your message for the different audiences you communicate with, email marketing gives you the ability to organize and segment your audience into lists and communicate with people based on interest, purchase behavior, location, and more. This has proven especially useful for someone like Courtney Hendricson, who manages the communication between the local government and business community of Enfield, Connecticut.
"I do the best I can to put all my contacts in separate lists so I can email just the development community, or just businesses, or elected officials, depending on what kind of event announcement or email I'm sending." ~Courtney Hendricson, assistant town manager, Town of Enflield, Connecticut.
Get immediate results
When you run a small business, every sale, order, or appointment can have a significant impact. With email, you're able to get the results you're looking for right away and easily track how your different email marketing campaigns are performing.
"It's rewarding because we always get an immediate response through orders. Whenever we need to trigger sales, we'll think of a great special to put out there." ~Karen Kowal, founder, Mother Earth Pillows.
Generate more leads
Not everyone who joins your email list will be ready to make a purchase or sign up for a service. Email gives you the opportunity to capture new visitors' attention and nurture the relationship with helpful and informative content.
"It's been great for generating leads. People that are thinking about using our service will usually sign up for the newsletter. I'll see them pop up for a couple of weeks in my reader-base, and then they'll call and make an appointment. It's not long until we pull them in as a customer." ~Meghan Blair-Valero, owner, Fogged in Bookkeeping, Inc.
Build excitement
You want your marketing message to be something that people look forward to seeing. Email lets you keep track of which messages are generating the most opens and clicks, so you know which messages will get people excited to hear from your business.
Start a conversation
Email marketing lets you start a two-way conversation that will benefit you and your readers. Don't just push your message out to them; encourage them to share their feedback and ideas with a survey or a poll. This approach has worked well for a company like WH Cornerstone Investments, which relies on email to share helpful advice, news, and education with clients.
"After each email, I get three to five calls. Some people see my email and get reminded they want a consultation; others will just want to talk about a news article." ~Paula Harris, co-owner, WH Cornerstone Investments.
Promote services
Service businesses face the difficult challenge of keeping clients interested in their business, even when they aren't looking for services at different times of the year. Email gives you the opportunity to keep your client's attention without overwhelming them with unwanted information.
Grow your audience
As a small business, it's not always easy to stand out in a crowded market. Email marketing allows you to build an audience that is interested in hearing from you, without having to pay for other advertising channels.
Stay organized with segmentation
Reaching out to clients on an individual basis can be a costly and time-consuming process. Email segmentation helps you save time by reaching out to your wider audience, while still delivering a message that's personal and relevant to them.
"Before email marketing, we were manually keeping track of everyone we had reached out to — it was crazy, the amount of time it took. Now, I can send out an email to about 300 people in less than five minutes." ~Ruth Weening, catering manager, Basil Tree Catering.
Increase your value
When you adopt a communication strategy that fits your audience's needs, you'll have more people paying attention to your message and get a higher return overall.
For a business like Cotton Clouds, making the switch from print to email newsletters doubled the number of sales they were able to generate each time they reached out to clients.
Attract new clients and customers
In addition to connecting with the people on your email list, you can also share your newsletters and announcements on your own social media networks to bring new people to your business.
Save time
Once you learn the basics, you'll be able to put together a plan to get your emails out to your audience of subscribers in less time.
"The biggest benefit of email marketing, from a staff perspective, is efficiency. I have a template made so it's easy to pull together an email quickly. I think the rest of my staff thinks it takes me a lot longer to create an email than it actually does!" ~ Kayla Peck, FAO Schwarz foundation fellow at Strong Women, Strong Girls.
Improve awareness of everything you offer
As much as you'd like to think customers know about all of the different products and services you have to offer, there's a good chance that many of them don't. This was a problem McDonald Wildlife Photography faced when they first got started with email marketing for their travel business.
Taking a more proactive approach to their marketing proved to be exactly what they needed to improve exposure of the services they offer.
"Our problem in the past would be when people were not aware of all the trips we had available. Up until we started using email marketing we just had everything on our website. From a marketing sense, that's the wrong approach because it puts the burden on our customers." ~Joe McDonald, co-founder, McDonald Wildlife Photography.
Why email marketing works
Unlike some other marketing channels, email marketing allows you to keep in touch with your customers on a consistent basis. Be it a simple, "Thank you for subscribing," a cheery, "Welcome on board," or a sincere "Happy Birthday," email can be an easy and effective way to let your customers know you value them. Customers love it when a business treats them as an individual, not just like everyone else.
That value should show in the emails you send, and the more value you provide to your target audience, the more they'll look forward to hearing from you. That's a benefit of email marketing that affects both you and your customers.
Take advantage of the benefits of email marketing for your small business!
The bottom line is that you should be communicating with your customers and prospects on a consistent basis. That is just what is expected of businesses in today's world. With email marketing, you can meet those expectations and more by creating a mutually beneficial relationship between your business and your email subscribers.
Now you know why email marketing is important, you can get to know email marketing terms that will allow your results to skyrocket. The benefits of email marketing are that it can help you to build your brand, out-do your marketing goals, set yourself up as an expert, and grow your business revenue, all without breaking your budget or taking up all your time.
So, stop thinking about it and get started on your small business email marketing today. You'll be glad you did!